hyapur® is the brand name of Hyapur Deutschland GmbH, a fine authentic natural cosmetic – made in Berlin.
hyapur® products are available in spas in high-end hotels as well as on cruise ships, in beauty salons, in medical and cosmetic establishments, and in pharmacies. Here in the online shop, you can buy all hyapur® products for your bathroom at home.
We have been specializing in the use of hyaluronic acid since 2007 – initially in the medical segment, and also in the cosmetic segment since 2009. Since 2010, Hyapur Deutschland GmbH has based on Suarezstrasse in Berlin Charlottenburg, by Lietzensee, directly between Kaiserdamm and Kurfürstendamm.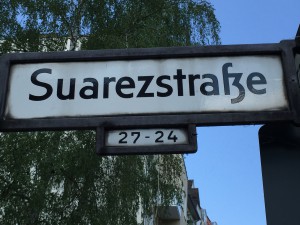 Exclusive natural cosmetics are developed here using only the essential top-quality active substances, and our dedicated in-house order-processing and logistics teams process and dispatch orders from our professional partners and personal users.
We would be happy to welcome you for a face-to-face chat and a chance to shop in our showroom, which is situated at the same site at Suarezstrasse 26 in 14532 Berlin Charlottenburg.
This team is headed by the managing partner, Mr. Martin Kothe, who started working in Germany and abroad as a trend scout and opinion-former for various prestigious companies while still studying. His professional career has taken him to destinations such as Paris, London, Milan, and the USA. Before the birth of their three children, he also accompanied his wife, who is a flight attendant, on many trips around the world.
With his instinct for new trends, he quickly latched on to the growing demand for pure, high-quality, and natural products, especially cosmetics, in many large cities. He also identified the ongoing and burgeoning trend towards increasing integration of medicine, exercise, diet, and cosmetics.
Because his mother was a biologist, he established a connection with nature and an interest in natural substances at a very early age. Many of his close relatives are also physicians, and so the company's intention of operating with natural yet effective products is easy to understand.
On founding his own company in 2007, he aimed to work with no limitations with his own ideas. He and his employees continue to be driven by his extremely high quality standards and his insistence on giving his customers only the very best.
Just before the first TV ads promoting hyaluronic acid were aired, the company began developing a cosmetic product of its own because the raw material and effect of hyaluronic acid as well as its positive properties for the skin were becoming increasingly popular. Just under a year later, Hyapur Deutschland GmbH became, and remains to this day, the only provider that can offer hyaluronic acid in a cosmetic skincare product in this pure, highly concentrated, and unique form. From 2009 to 2013, hyapur® Pure Hyaluronic Intense Serum was the only product in the range.
Its compatibility with almost all other cosmetic products meant that there was no need to develop supplementary products. However, demand for further cosmetic products from Hyapur Deutschland GmbH grew at a phenomenal rate. The first three products in the hyapur® GREEN care series, consisting of a cleansing lotion, a day cream, and a night cream, were presented with great success in March 2013 at the Beauty International cosmetic trade show in Düsseldorf. The fluid was added to the product range in October 2013. Tonic Sensitive and the eye cream joined them in March 2014, and the peel and the moisturizing mask rounded off the GREEN series – the hyapur® vegan natural cosmetic facial care range – in March 2015. The latest hyapur® products were unveiled at Beauty International in March 2017, and proved hugely successful: the five hyaluronic algae serums and the four products in the GREEN Body & Hair series.
Further innovations are sure to follow…
As an industry professional, you are welcome to visit us at our stand at a cosmetic trade show. We have been exhibiting at various national and international cosmetic trade shows for many years:
2017:
Berlin Fashion Week VIP Beauty Lounge: January 17 & 18, 2017
Beauty International Düsseldorf: March 31 – April 2, 2017
SPA Life Congress Bad Orb: May 8 – May 10, 2017
Cosmetica Frankfurt: June 24 & 25, 2017
Beauty Forum Munich: October 28 & 29, 2017
Cosmetica Berlin: November 18 & 19, 2017
2018:
Beauty Düsseldorf: March 9 -11, 2018
COSMOPROF Las Vegas: July 29-31, 2018
Beauty Forum Paris: October 7 & 8, 2018
Spa Camp Fulda: October 12.-14, 2018
Aesthetics & SPA Nizza: October 14 & 15, 2018
Beauty Forum München: October 27 & 28, 2018
Cosmetica Berlin: November 17 & 18, 2018
We would like to take this opportunity to thank you for your confidence in us and for the very high number of regular personal and professional customers.
Thank you very much indeed.
Best regards from Berlin
Martin Kothe and all the hyapur team